What Laws Apply When Starting a Franchise?
Successful entrepreneurs often turn to franchising because of the potential to achieve accelerated growth without the level of investment required to grow operations internally. There are many business and legal considerations to take into account. Our goal is to provide an overview of the laws to consider when starting a franchise.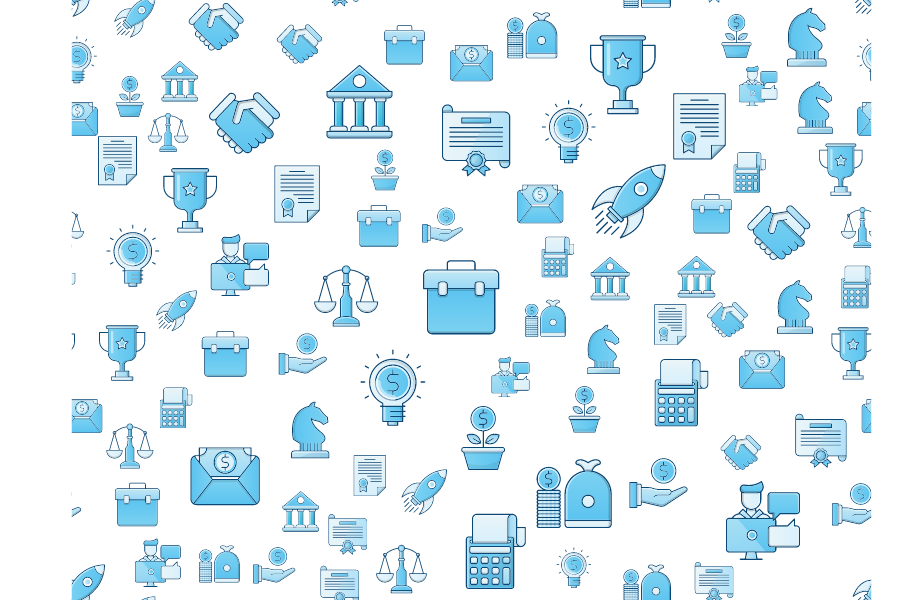 laws when starting a franchise
There are several key categories of laws that may come into play when starting a franchise. We break them down into four main categories:
Laws effecting business generally
Laws specific to your industry
Federal franchise laws
State franchise laws
The extent these laws must be taken into account when starting a franchise will vary based on the nature of your existing business and your plans for franchising.  
Laws effecting business generally
All businesses are required to comply with laws specific to their location of operations. General business laws can be enacted on the federal level, state level, or local level.  We are going to focus on a few key requirements for franchisors to consider.  Franchisees will also have to consider the laws that effect their ability to do business. 
Corporate Formation and Governance
Each franchise location is independently owned and operated by a franchisee. Franchisors should ensure their franchisees intend to operate the franchised business either individually or through an entity authorized to do business. Franchisors take several steps to protect their intellectual property and limit exposure by:
Ensuring their brand name is not included in the name of the legal entity. 
Ensuring a doing business name is registered and includes proper designation to distinguish the franchisee from the franchisor. For example: ACME # 230108 or ACME of Virginia Beach
Ensuring any corporate formation documents contain restrictions on transfer and limit business activity to the franchised business. 
Ensuring businesses are properly insured with sufficient coverage and the franchisor being listed as an insured party. 
Labor and Employment Laws
Franchisors typically intend for franchisees to be responsible for their employees. Franchisors are treated as independent contractors and they should be responsible for hiring, training, managing, and terminating their employees. Franchisors should ensure that they are not overstepping their role. If the do so, they risk being considered a joint employer. Franchisors should also be aware that there is a current shift on the state and federal level to require franchisors to be joint employers.  If this occurs, franchisors may choose to be a more active participant if they risk being responsible for employees.  
Restrictive covenants: the non-compete
Franchisors often attempt to protect their know-how and limit competition through the use of non competition provisions.  The laws applicable to the enforcement of these types of restrictive covenants vary by state. Additionally, the FTC and NLRB are presently considering federal restrictions on non competes. Franchisors should carefully consider how they wish to limit franchisees and/or their employees and understand the likelihood of enforceability.   
Privacy and Data Protection
Franchisors and franchisees must ensure that there are certain protocols to protect privacy and protect data. This is essential for consumer and employee data. It is also important from franchisors to maintain confidentiality of their know-how. The extent of protection may vary by industry and business practice. Franchisors may mandate system requirements or require use of certain template disclosures and agreements. Franchisors should also be prepared to deal with a data breach. 
Laws Specific to Your Industry
There are federal, state, and local laws pertaining the health and safety of employees and customers. These laws vary by industry.  As part of the disclosure process, the franchisor is required to disclose the nature of laws specific to the franchised business. 
There are federal, state, and local laws pertaining to licensing and approval of business leads to engage in their line of business.  customers. These laws vary by industry.  As part of the disclosure process, the franchisor is required to disclose licensing requirements specific to the franchised business. 
Federal laws specific to franchising
The offer and sale of a franchise opportunity can only be made through delivery of a franchise disclosure document. Franchisors must be familiar with the requirements for the initial preparation of this disclosure and the requirements for both periodic and annual updates.  We provide an overview of federal franchise law. The disclosure document covers 23 specific items for disclosure, and contains each of the contracts governing the franchise relationship. 
State Laws Specific to Franchising
Franchisors must consider where they want to offer franchises and under the specific laws for each state or locality. This includes state specific franchise laws. States regulate the offer and sale of franchises to varying degrees. The following map depicts the requirements in each state and is current as of the date of this post.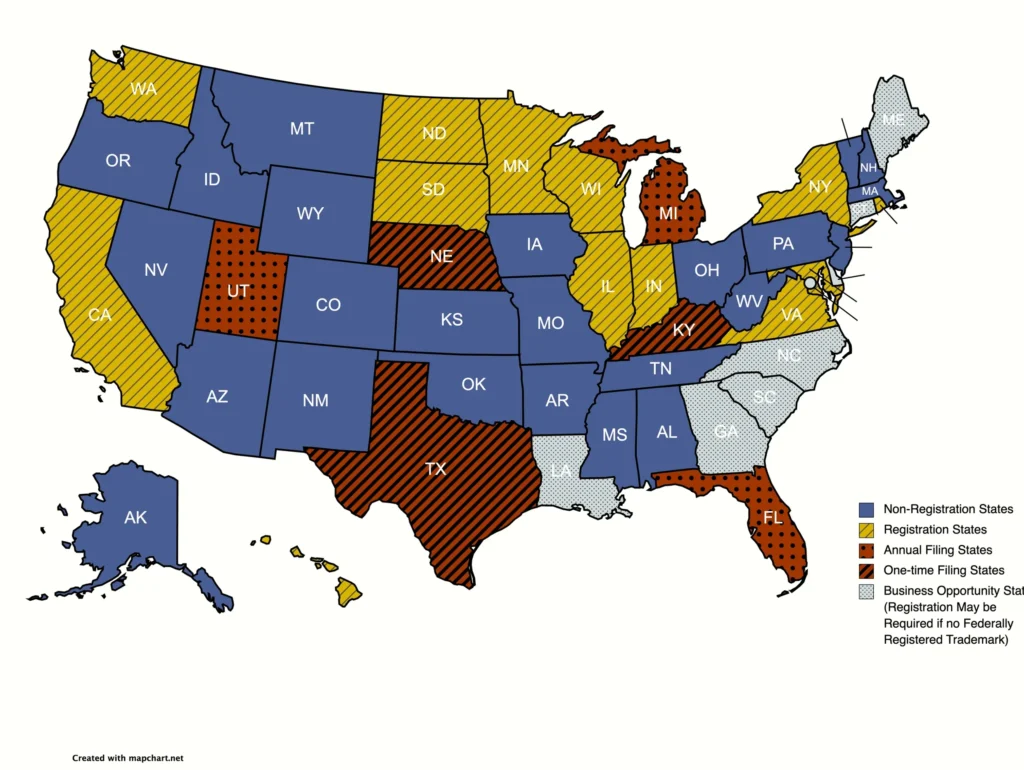 An explanation of each category
In registration states, a franchisor must register the disclosure document through an application process. Registration is required annually and periodically on the event of a material change. Regulators in registration states must approve the franchise offering before any franchise can be offered or sold. 
In non registration states, a franchisor can offer and sale franchises so long as they are in compliance with the federal franchise rule.  
In filing states, a franchisor cannot offer or sale franchise opportunities until they file for approval to do so.  Filing is required annually in some states.  Other states have a one-time filing requirement.  
Business Opportunity States
Business opportunity states regulate the offer and sale of any business opportunity.  There may be an exemption for your franchise.  Typically this will depend on whether you have a federally registered trademark.