An Overview of Franchise Law
Please explore our site for a 10,000-foot overview of franchise law and the franchise registration process from franchise attorneys.  
Franchising is regulated on the federal and state level. Federal franchise law requires all franchisors to prepare and maintain a franchise disclosure document ("FDD"). The FDD is the legal document required to franchise.  
The FDD is intended to require franchisors to disclose sufficient information to provide buyers with the information they need to evaluate the franchise offering and make an informed purchase decision. 
A Franchisor cannot offer or sale a franchised business in the United States or its territories without first preparing a complete Franchise Disclosure Document ("FDD") in compliance with federal law.   Some states impose additional requirements for franchisors to follow before offering franchises in their specific state.  This state-level process is referred to as franchise registration, or in some cases, franchise filing. Registration and compliance is often maintained by franchise attorneys. The map below depicts the requirements in each state.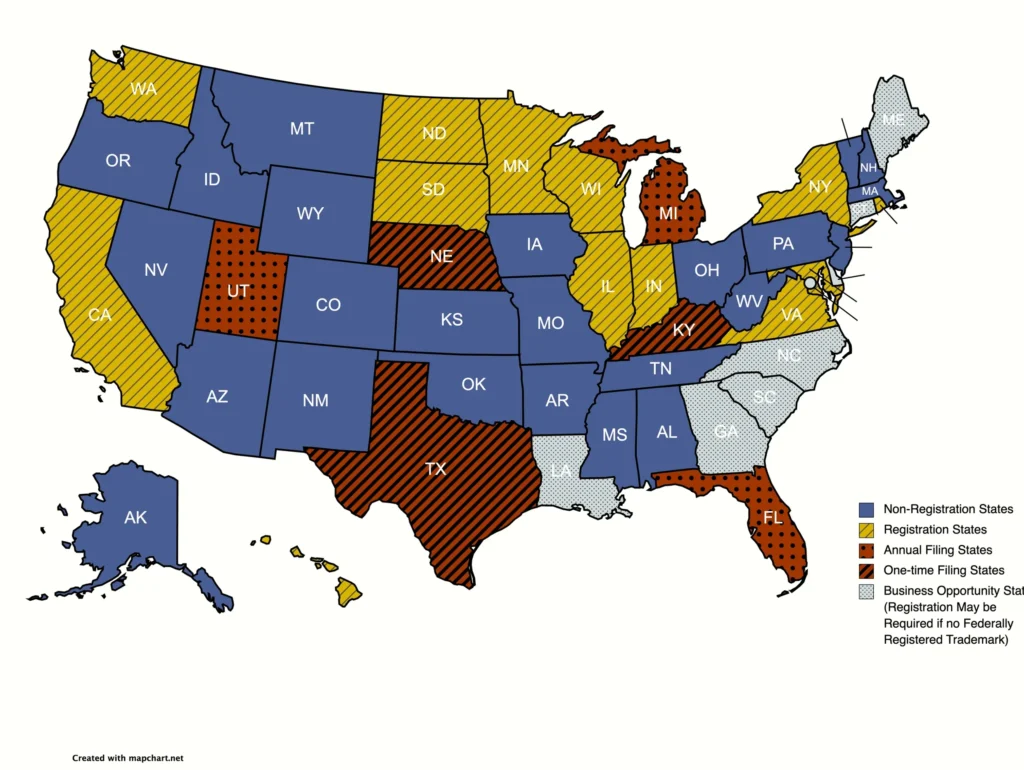 A franchisor can offer and sale franchises with a valid FDD without any state approval. 
In franchise registration states, a franchisor must register the FDD through an application process. This registration process occurs annually. Regulators must approve the franchise offering in these states before any franchise can be offered or sold. 
A franchisor can offer and sale franchises in these states with a valid FDD if they file an annual notice.  
A franchisor can offer and sale franchises in these states with a valid FDD after filing a one-time notice. They do not require annual updates on the state level. 
Business Opportunity States
These states have business opportunity laws. Franchisors must register as a business opportunity in these states unless they have a federally registered trademark or another exemption applies. 
What Makes a Franchise a Franchise?
Franchising occurs when an oral or written deal satisfies these three elements:
The buyer will obtain the right to operate a business that is identified or associated with the seller's trademark, or to offer, sell, or distribute goods, services, or commodities that are identified or associated with the franchisor's trademark; and 
The seller will exert or has authority to exert a significant degree of control over the buyer's method of operation, or provide significant assistance in the buyer's method of operation; and
As a condition of obtaining or commencing operation of the business, the buyer makes a required payment or commits to make a required payment to the seller or its affiliate. (There is an exemption for certain fees less than $615 before and during first 6 months; however, some states have lower threshold amounts or measure the fee over a different period of time). 
The Franchise Offer Through the FDD
Note, labelling a contract as a licensing agreement or distribution agreement does not make it so. Franchising is franchising. There can be severe consequences for accidentally franchising. Franchise lawyers with experience in helping businesses buy, sell, and franchise can explain the nuances of franchise law and help business owners decide if they truly want to be a distributor or a franchisor.  
The offer of a franchise can only be made through an issued franchise disclosure document ("FDD").  In fact, It is an unfair or deceptive act or practice in violation of Section 5 of the Federal Trade Commission Act to offer a franchise without complying with federal requirements. to provide the required documents. The sales process cannot start until the FDD is disclosed to a prospect. Failing to comply puts the franchise system at risk.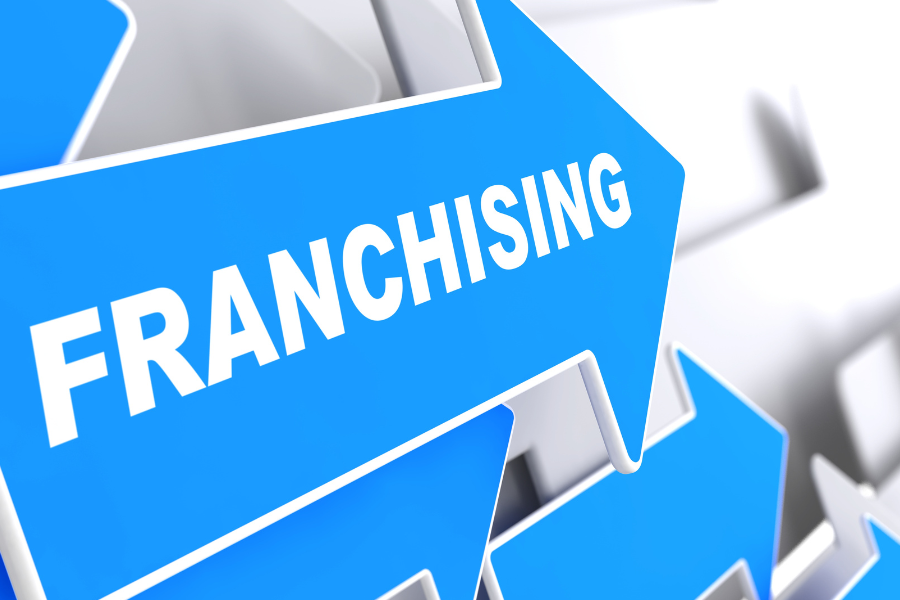 Once the FDD is disclosed, there is a 14-day waiting period before any transaction can occur. Calculating the 14-day period does not include the day the FDD is disclosed or the day the franchise agreement is signed and days may be added if terms are changed in the franchise agreement. During this waiting period, the franchise agreement cannot be signed and the initial fee cannot be collected. After observing the waiting period, the deal is completed by the parties by signing a franchise agreement, which is the contract between franchisor and franchisee. It can get complicated without the assistance of competent franchise counsel.  There are many requirements and multiple franchise models. 
There are 23 areas of disclosure (Items) in every disclosure document. 
Item 1: The Franchisor and any Parents, Predecessors, and Affiliates
Franchisors must provide information on their corporate structure and identify any parent or affiliate entities.  Additional information is provided about each entity in order to disclose the nature and experience of the business.  Franchisors also describe the franchise offering, the competitive market, and laws and regulations specific to the industry.  
Item 2: Business Experience
Franchisors must disclose the name, title, and business experience of the directors, trustees, general partners, principal officers, and any other individuals who will have management responsibility relating to the sale or operation of the franchise offering. Persons with management responsibility must be disclosed regardless of whether they are employed by franchisor, a parent, or affiliate and regardless of professional title.  
Franchisors must disclose relevant litigation history for the franchisor or predecessor, and certain parents or affiliates.  Relevant litigation history must also be disclosed for every individual that is required to be listed in Item 2.  
Franchisors must disclose any bankruptcy filing in the past 10 years from the franchisor, predecessor, parent, affiliate, officer, general partner, or any individual required to be listed in Item 2.  
Franchisors must disclose all initial fees due by a prospect.  This includes the initial franchise fee, initial advertising fee, and any other fee paid to the franchisor prior to starting operations of a franchised business. 
Franchisors must disclose all other fees that are paid to, or through, the franchisor or an affiliate during the operation of the franchised business.  Common fees include royalties, ongoing marketing fees, transfer fees, equipment, cost of goods or services, credit-card processing fees, technology fees, indemnification, or penalties. 
Item 7: Estimated Initial Investment
Franchisors must provide an estimated initial investment of the total amount a franchisee will need to make as an initial investment in the franchised business. This includes all costs incurred from signing the franchise agreement and launching and operating the franchised business for at least 3 months.  This should be based off the franchisors experience and is provided as a range of costs to recognize differences in market and costs of goods or services.  
Item 8: Restrictions on Sources of Products and Services
Franchisors must disclosed when they require a franchisee to provide products or services in a particular way or from a particular provider. Franchises in general are designed to require all franchisees to follow the same process and systems; however, the degree of control and the suppliers of the products or services vary by franchise system. When the franchisor provides the services through its entity, a parent or an affiliate, they must disclose revenue gained and compare the revenue generated from required purchases to their total revenue, along with additional information. 
Item 9: Franchisee's Obligations
Franchisors must disclose the franchisees obligations on an enumerated list of items provided in the rule. A sample of required disclosures includes: site selection and acquisition; pre-opening purchases; site development and pre-opening requirements; training; opening schedule; fees; compliance with policies/operating manual; use of trademarks and proprietary information; development and quotes; advertising; building condition; and other requirements. 
Franchisors must disclose the terms for any financing that is offered to franchisees by the franchisor, its agents, or affiliates (directly or indirectly).  The terms are specified in the rule.  Common financing includes a portion of the initial franchise fee. 
Item 11: Franchisor's Assistance, Advertising, Computer Systems, and Training
Franchisors must disclose whether they have an obligation to provide certain types of assistance in training franchisees, assisting in launching the franchised business, and assistance in operating a franchised business.  Franchisors also disclose restrictions on the operational manual and provide its table of contents. 
Franchisors must disclose the perimeters used to generate a franchise territory and provide certain information regarding the exclusivity or non-exclusivity of the territory. Individual territories are established during negotiations and included in the franchise agreement.  
Franchisors must disclose the status of any trademark and provide the ability of franchisees to use the trademark during the operation of the franchised business.   
Item 14: Patents, Copyrights, and Proprietary Information
Franchisors must disclose the existence of other types of intellectual property that they provide to franchisees and explain the extent the information can be used by franchisees.  
Item 15: Obligation to Participate in the Actual Operation of the Franchise Business
Franchisors must disclose the extent of involvement required by the person signing the franchise agreement during the operation of the franchised business.  Franchisors may establish criteria for managing or responsible parties and require certain training and standards.  
Item 16: Restrictions on What the Franchisee May Sell
Franchisors must disclose a franchisees obligation to offer certain products or services and limitations on offering any other products or services.  
Item 17: Renewal, Termination, Transfer, and Dispute Resolution
Franchisors must disclose conditions or requirements for a franchisee to renew the franchise agreement when the initial term is going to expire.  Franchisors must also disclose the conditions allowing for termination, dispute resolution, and other obligations under the franchise agreement.  This disclosure is made by reference of enumerated items to specific provisions in the FDD and franchise agreement.  
Franchisors must disclose compensation or other benefit (such as equity) given or promised to any public figure and disclose the extent of the public figures involvement and investment interest in the company if the public figure is involved in offering or selling franchises.  Public figures are commonly referred to as brand ambassadors.  Learn more about contracting with a brand ambassador for your franchise.
Item 19: Financial Performance Representations
Franchisors must either (1) disclaim that they make any financial representation or (2) make a financial representation.  In either case, the FDD must provide specific pieces of information.  Franchisors cannot make any financial representation to a prospect except to the extent disclosed in Item 19.  Further, franchisors must have data to backup any representation and provide that data upon request. What is an Item 19 Financial Performance Representation?
Item 20: Outlets and Franchisee Information
Franchisors must provide certain information franchisee owned and company owned locations.  The company locations may include business operating under a different name than the franchise offering.  This information is provided for the past 3-years and in 5 different tables.   The FDD must also contain contact information for all current franchisees and recently terminated or absent franchisees.
Item 21: Financial Statements
Franchisors are required to include a copy of financial statements with the FDD.  Established franchisors will be required to provide three years of audited financials in a particular format.  There are exceptions to providing audited financials for emerging brands; however, some states require audited financials for registration in their state. Any unaudited financials are provided with an alert advising prospects that the financials have not been audited.  
Franchisors must attach a copy of all agreements that the franchisee will be asked to enter into in order to operate a franchised business. We excel at contracts and transactions. 
Franchisors must provide a receipt page to document the disclosure requirements and acknowledge that the franchise prospect obtained a copy of the FDD on a particular date.  
The Impact of State Franchise Laws
States have the authority pass laws and enable regulatory bodies to create rules governing how businesses parties conduct business in their state.  Some states have enacted specific rules tailored to franchisors and franchise relationship laws, while others have enacted laws generally effected the sell of a business opportunity.  It is important to understand that the federal franchise rule establishes the minimum disclosure requirements. This is a floor, not a ceiling.  State laws may impose additional oversight, change certain contract terms, or otherwise shape how franchisors operate within their state. 
State FDD registration and Renewal
The application of state laws depends on (1) the state where the franchisor is located; (2) the state where the prospective buyer is located; and (3) the state where the franchised business will be located.  States regulate franchising to various degrees.  In 13 states, registration of the disclosure document is required. This requires completion of an application and submission of a packet of document to state regulators.  Many of these states review the FDD and provide comments. They impose requirements and conditions on the sale of franchises in their state.  They also investigate franchisors for violation of the franchise rules and regulations.  The regulator process means that franchisors cannot always offer franchises in certain states.  The state franchise registration process occurs on an annual basis and there is often a blackout period where franchise sales cannot occur.  
Franchise laws can vary by state. Explore our site to learn more about franchising and franchise relationship laws in a each state: Alabama, Alaska, Arizona, Arkansas, California, Colorado, Connecticut, Delaware, Florida, Georgia, Hawaii, Idaho, Illinois, Indiana, Iowa, Kansas, Kentucky, Louisiana, Maine, Maryland, Massachusetts, Michigan, Minnesota, Mississippi, Missouri, Montana, Nebraska, Nevada, New Hampshire, New Jersey, New Mexico, New York, North Carolina, North Dakota, Ohio, Oklahoma, Oregon, Pennsylvania, Rhode Island, South Carolina, South Dakota, Tennessee, Texas, Utah, Vermont, Virginia, Washington, West Virginia, Wisconsin, Wyoming. (Our Site is constantly being improved and we will add new links as we grow our Site content.  Please contact us with any questions). 
Frequently Asked Questions