Franchise attorneys help Franchisors and franchisees grow with intention
Franchising presents unique opportunities for both franchisors and franchisees.
Franchising also presents unique legal challenges.
The offer and sale of a franchise opportunity is regulated by the federal government through the Franchise Rules and is regulated to varying degrees in states across the country. Selling a business opportunity presents different challenges than selling an existing business. Likewise, buying a franchise opportunity presents unique opportunities for conducting due diligence.
Franchise law is a niche practice area that requires constant and continual education. Complying with franchise law is essential to franchisors and understanding the implications of franchise law is critical for entrepreneurs considering a franchise opportunity.
Before going into the substance of the role of a franchise lawyer, its important to ensure that readers understand basic legal requirements and certain key definitions.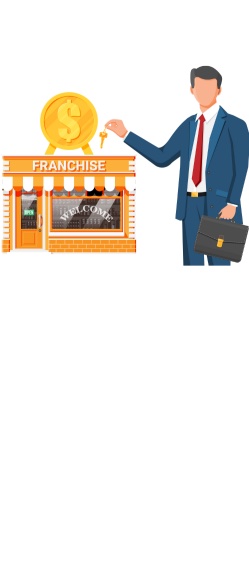 The Franchise Disclosure Document ("FDD")
The offer and sale of a franchise opportunity can only be made through a franchise disclosure document. This document is commonly referred to as the FDD. You can view existing FDD's online by searching certain state and federal databases. You can also learn more about this federal requirement on our website.  
Understanding the legal definitions
As an initial matter, what is a "franchise", what makes a franchisor a "franchisor", and what makes a franchisee a "franchisee"?
The federal Franchise Rule defines these terms.
Franchise means any continuing commercial relationship or arrangement, whatever it may be called, in which the terms of the offer or contract specify, or the franchise seller promises or represents, orally or in writing, that:
The franchisee will obtain the right to operate a business that is identified or associated with the franchisor's trademark, or to offer, sell, or distribute goods, services, or commodities that are identified or associated with the franchisor's trademark;
The franchisor will exert or has authority to exert a significant degree of control over the franchisee's method of operation, or provide significant assistance in the franchisee's method of operation; and
As a condition of obtaining or commencing operation of the franchise, the franchisee makes a required payment or commits to make a required payment to the franchisor or its affiliate.
Franchisor means any person who grants a franchise and participates in the franchise relationship. Unless otherwise stated, it includes subfranchisors. For purposes of this definition, a "subfranchisor" means a person who functions as a franchisor by engaging in both pre-sale activities and post-sale performance.
Franchisee means any person who is granted a franchise.
How Do Franchise Lawyers help Franchisors?
The FDD, Compliance, and Franchise Relations
The FDD must be developed before the the franchisor can offer and sale franchises.  Attorneys work with business leads to prepare appropriate disclosures and draft contracts reflecting the business intent.  The culmination of this process results in an issued FDD. This disclosure document is the updated annually or as often as required by state franchise laws. 
Certain states require franchisors to submit materials and obtain approval prior to offering and selling franchises in their state. Franchise attorneys educate business leads, guide the process, and track approvals. They also disclose prospects, prepare franchise agreements and addendums, and update disclosures in compliance with state and federal law.  
Franchise law is a niche practice, but many franchise attorneys also excel in areas of business and commercial law. As franchise lawyers, we help franchisors manage the franchise relationship and protect the franchise system in various ways. This may include documenting defaults, engaging in dispute resolution, or managing litigation.
How Do Franchise Lawyers help Franchisees?
FDD review, franchise agreement review and negotiation, and business formation
Franchisee support starts with a legal review of the key terms of the FDD. We provide a full assessment in plain-language to help client's understand the rights and obligations embodied in a particular franchise relationship. The goal in the FDD process is to enable franchise buyers to make informed decision. 
Franchise Agreement Review
The franchise agreement is the contract governing the franchisee and franchisor relationship. We advise prospective franchisees on key terms and answer any legal questions. Our knowledge of franchise law and diligent review often helps provide leverage in franchise agreement negotiations. We help our clients focus on key terms and best strategies for negotiation. 
Most franchisees elect to put their franchised business, or the assets of the business, into a separate legal entity. We help establish the entity and draft formation documents to ensure the DBA name and operating agreement follow requirements established by the franchisor. We provide new business owners with the knowledge they need to manage risk and reduce exposure. 
Contact a franchise attorney today!