Financial Performance Representations
The offer and sale of a franchise business in the United States is governed by The Franchise Rule and applicable state laws.  A franchise offering can only be made through a franchise disclosure document ("FDD") (Franchise Law and Registration). When looking at a franchisor's FDD or preparing your own FDD, you may find yourself asking: 
What is an Item 19 financial performance representation?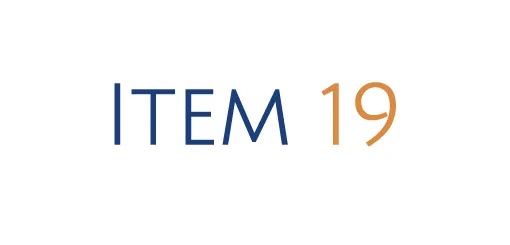 item 19: Financial Performance Representation
Item 19 contains any and all financial performance representations made by the franchisor. A franchisor is generally prohibited from making any financial performance representation unless the information is included in Item 19 of the FDD. This means that a franchisor generally cannot disclose historical or projected gross sales, profit, or similar financial data for its franchised or franchisor owned outlets unless that information is included in Item 19 of the FDD. 
Franchisors Option in Item 19
When drafting the FDD, a franchisor must pick one of the following two options:
elect not to make a financial performance representation using specific language provided by the Rule; or
include a representation based upon the actual historical financial performance or potential financial performance.  
Why is Item 19 Significant to franchise prospects?
Past behavior is typically the best indicator of future behavior.  The same is true for success. Item 19 may demonstrate the success of current franchisees. This is particularly true when you compare competitors. Is one performing better than the other? Disclosures often include average revenue, median revenue, and a range of gross revenue for franchise and company-owned outlets. Some include COGS or other information. The financial representations can help you determine if the potential financial outlook aligns with your expectations. They can also help you budget and plan for success.
A franchisor must have written substantiation for any financial representation (which must be provided to prospects upon request). You should always ask for this information as a franchise buyer!
Why is Item 19 significant for Franchisors?
Franchisors put a considerable amount of time and effort into the decision of whether to implement an Item 19 financial performance representation. The analysis requires an understanding of the legal risk and business implications. From a business standpoint, choosing to disclose creates an opportunity to demonstrate validation of the franchise system. From a legal standpoint, a representation may increase the risk of litigation by disgruntled franchisees.  
We counsel our clients on risk mitigation.  No one can eliminate risk. 
Franchisors mitigate risk by ensuring all financial disclosures are reasonable, appropriately tailored, and accurate. They avoid unnecessary risk by creating a culture of compliance. They provide sales leads and operational teams with the know-how they need.  
Still have questions about item 19?